Last year, Toronto Hydro filed a Climate Action Plan (PDF, 9.4 MB) with the City of Toronto, outlining how we can help support the City's Net Zero Strategy. In June, we delivered a Climate Action Plan Status Report (PDF, 6.3 MB) to the City, which included recommendations for new climate action mandates for Toronto Hydro.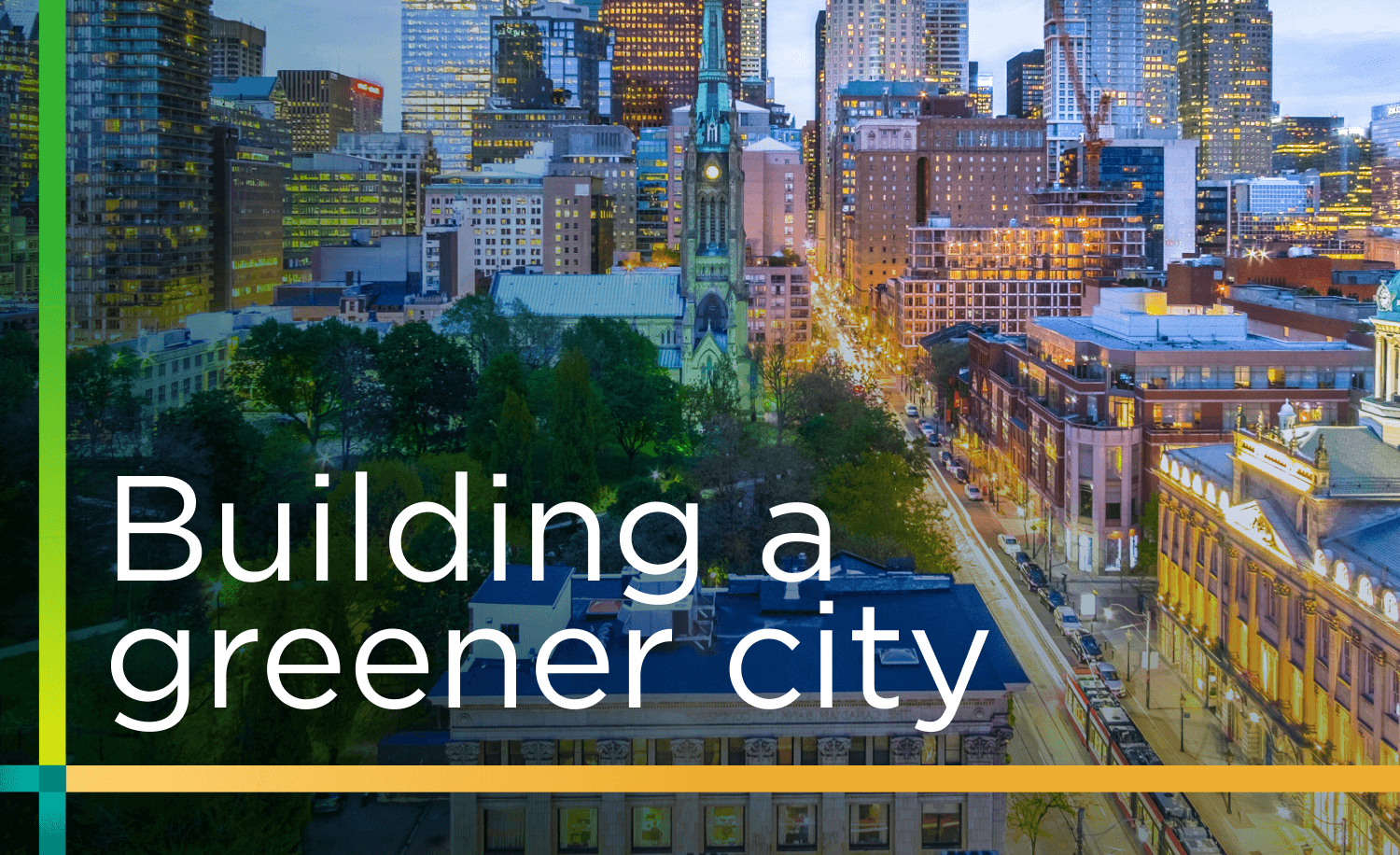 As a clean energy leader in the city and nationally, Toronto Hydro is committed to bold, practical and equitable climate action. We're a proud supporter of the City's net-zero vision and are committed to doing our part to help address the climate emergency.
Background
On April 7, 2021, Toronto City Council approved recommendations from the City Manager's Office requesting that Toronto Hydro prepare an action plan for how we could further support the City's net-zero vision.
In particular, the City asked us to explore what more we could do in the following areas of climate action:
Electric vehicle (EV) charging infrastructure
Modernization of outdoor lighting/streetlighting
Renewable energy and energy storage
Building electrification and energy efficiency
Non-rate sources of funding
Our climate action goals
To meet the City's ambitious net-zero vision, we've developed an innovative Climate Action Plan focused on achieving the following goals:
Delivering nationally significant greenhouse gas (GHG) reductions.

Stimulating and facilitating the local cleantech economy.

Advancing social equity in Toronto.
Our climate action proposals
Our Climate Action Plan includes several options for how Toronto Hydro can help support a net-zero future for Toronto:
Investing up to $10 billion by 2050 to build a grid that's capable of supporting the City's net-zero vision. This significant investment in our grid would enable increased electrification of major sectors of our economy, such as transportation and buildings, which is an essential step for getting Toronto to net zero.
Creating a new Climate Advisory Services business that would help facilitate and stimulate the growth of emerging local cleantech markets. Under this model, Toronto Hydro would act as a trusted partner with its customers, local cleantech companies, governments and other stakeholders to help remove barriers and enable projects in Toronto that electrify transportation, electrify and enhance the energy efficiency of buildings, and build renewable generators and energy storage systems.
Implementing a city-wide LED conversion project for outdoor streetlighting.
Creating a new Climate Capital Investments business model through which the City could make direct investments in areas of climate action not currently supported by the local economy or government funding.