We're upgrading and expanding Toronto's electricity grid to help improve service reliability and resiliency throughout the city. However, power outages remain a possibility. Severe weather and equipment failure are the most common causes, but there are a number of other reasons why the lights might go out. Let's examine the common causes in more detail.
Severe weather
High winds, lightning and winter storms can bring down trees and branches on powerlines and damage other electrical equipment
Heat waves can increase demand for electricity from air conditioning, which can strain the grid
Rain and flooding can damage overhead and underground equipment
Equipment failure
Aging infrastructure can cause power outages. About one-third of our equipment is operating close to its end-of-life
Breakdowns can occur due to the complexity of electricity equipment
Loss of supply
There are three main components to Ontario's electricity system — generation, transmission and distribution. Once electricity is generated by organizations such as Ontario Power Generation, it's delivered through transmission lines that serve as a highway for transmitting electricity. Hydro One then supplies electricity to Toronto Hydro through their transmission lines. Toronto Hydro is responsible for the last step of the journey; distributing electricity to residential, industrial and commercial customers.
A loss of supply occurs when Hydro One is experiencing issues with its power supply and is unable to supply us with electricity. When this occurs, we're unable to deliver electricity to our customers until Hydro One makes repairs.
Here's a diagram to help illustrate a loss of supply from Hydro One: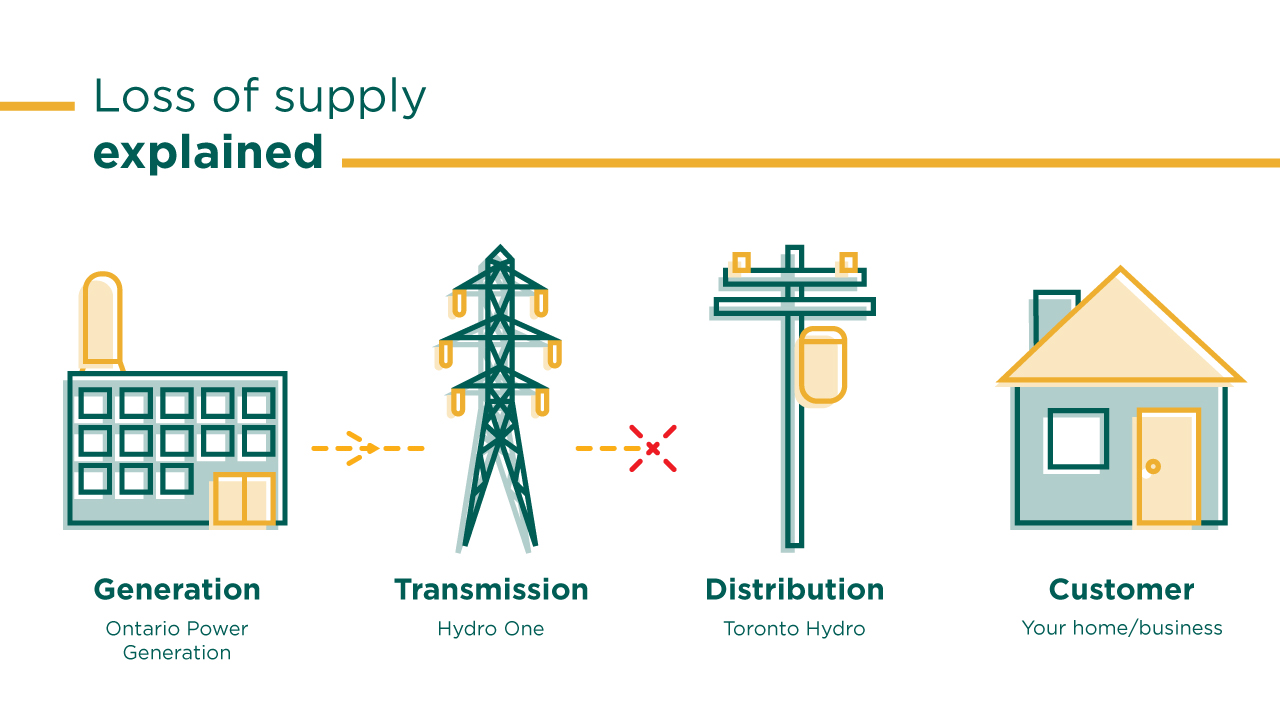 Other outage causes
Vehicle or construction accidents can knock down hydro poles or bring down powerlines
Animals such as squirrels, birds and raccoons can interfere with equipment
Cable dig-ins can cause outages when construction crews accidentally hit a buried line while excavating
Trees that are not trimmed properly can come into contact with a powerline
Planned outages are occasionally scheduled to allow our crews to safely complete repair work, maintenance or upgrades on our equipment. We do our best to notify customers in advance
Momentary outages
While we're continuously working to help improve grid reliability, customers may experience momentary outages from time to time. They're often due to extreme weather or trees and animals making contact with our equipment.