If you're working on a project that requires connection to Toronto Hydro's grid, you'll need to be familiar with the structure of Ontario's electricity sector, requirements for developing a project with Toronto Hydro and our grid modernization efforts. We've put together a guide to cover all that information and more.
Download our Developer Manual for a user-friendly reference that can help you successfully complete your work.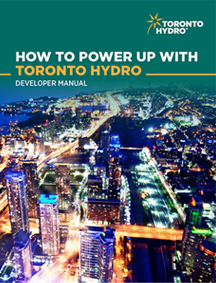 How to Power Up With Toronto Hydro Developer Manual (PDF, 8.4 MB)
Note: Before you start any work, you should be familiar with our connection policies and services. For further details on powering up with Toronto Hydro, please refer to our Conditions of Service.